With the end of World War II and rise in leisure culture came the increased importance of creating an outdoor living room fit for dining and entertaining. The white picket fences of the golden age would soon give way to clean lines, modern materials, and a new era of patio furnishing. Led by innovative designers such as Brown Jordan, Russell Woodard and John Salterini, outdoor design gained momentum as furniture pieces became more durable and affordable.
Building Leisure
The post WWII housing boom was a gateway to the new culture of planned communities and suburban leisure time. Mid-century homes were not only designed with elements of nature incorporated within, but were also built to seamlessly extend into dedicated outdoor living areas. New houses were equipped with tall airy ceilings, materials inspired by nature, and big picture windows to achieve harmony between indoor and outdoor entertainment.
Consumerism in lawn maintenance equipment also heightened as outdoor spaces became increasingly important. New tools and improved machinery were products of wartime research and development, and aided in reducing the hassle of yard work and exterior upkeep. With less time spent caring for the garden, more time was awarded for leisure in the outdoor space.
Recreational, poolside entertaining and garden relaxation became household norms across the US, but most notably in the temperate climates of Florida and California. This shift in lifestyle was a leading factor in the demand for year-round durability and timeless design.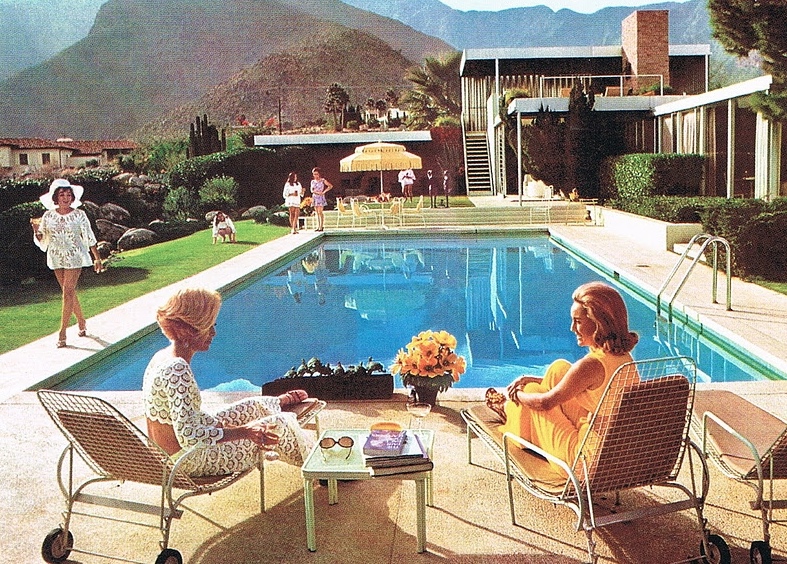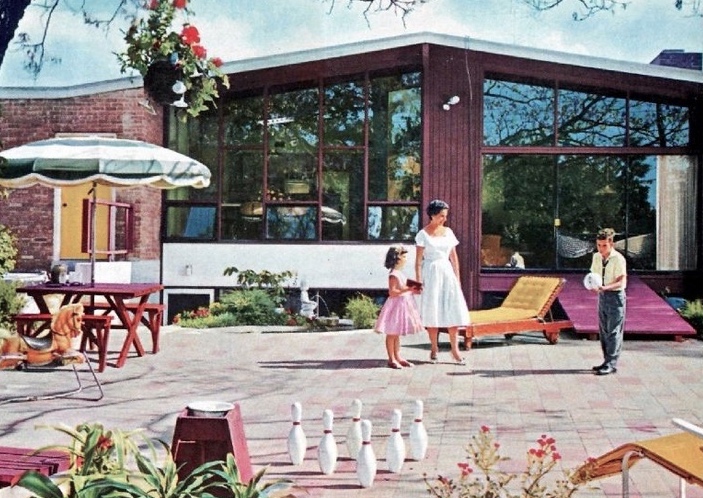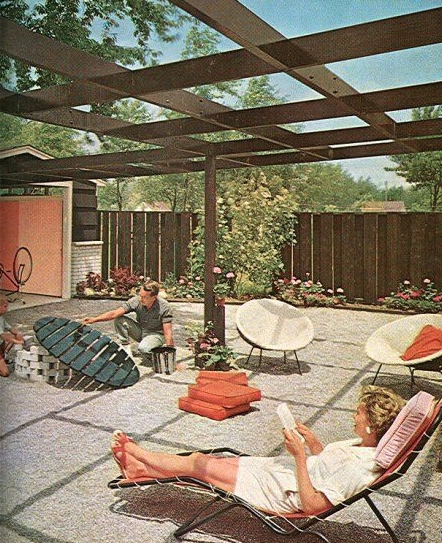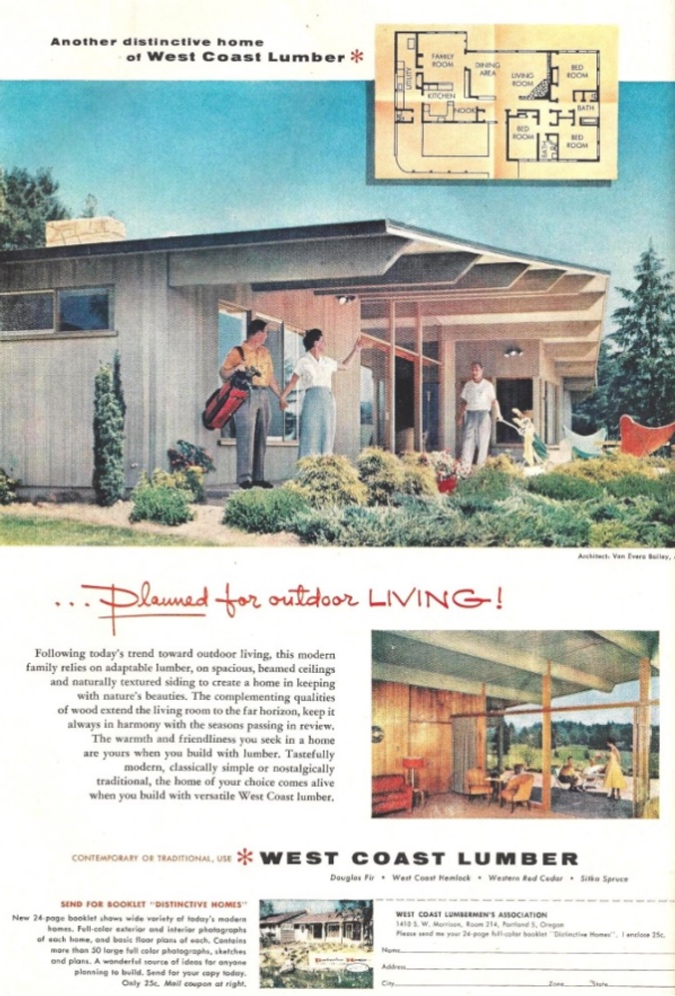 Material Revival
Like other post war designers, the pioneers behind mid-century outdoor furniture were also inspired by freedom of imagination, development in use of materials, and innovation from rise in consumerism.
Cast aluminum was a hit in coastal areas for its low maintenance while wrought iron was similarly popular elsewhere for its year-round durability. Such materials explored new forms and patterns, leading to the iconic clean lines and airy nature that has come to define the mid-century era. Other motifs like woven vinyl and bold prints prevailed through the 1950s and on, while rattan also made a resurgence in an updated form.
Here's a look back at 6 iconic styles that defined the landscape of outdoor furniture during the mid-century era and a brief history of a few designers that influenced them.
01. Wire Frame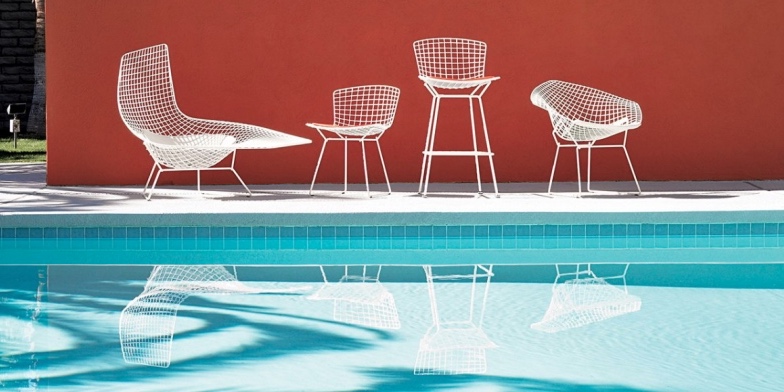 Harry Bertoia for Knoll
In the early 1950s, Hans and Florence Knoll invited Harry Bertoia to experiment with his work in a studio in the early Knoll factory. With no other instruction or demand than to explore what he pleased, Bertoia conceived what is now known to be the renowned Bertoia collection. Featuring an iconic sculptural form, the lattice wire pieces were designed for both indoor and outdoor use.
Bertoia's collection has been in production since its launch in 1952, credited to enduring timeless design and versatile function. Original pieces dating until 1969 are labeled Knoll Associates while those manufactured since then are marked with Knoll International.
Homecrest
Dating back to 1953, Homecrest was founded by Mert Bottemiller and Al Engelmann. Well known for their iconic wire collections that are still sought after today, Homecrest's designs featured clean lines and sturdy wire construction. Beneath those cheerful floral cushions you will also find their original 1956 patented Bottemiller swivel rocker mechanism. Enduring in style and quality, many of the original pieces have withstood the test of time and have been featured more recently on Mad Men and in CSI's Marg Helgenberger's home tour.
Some of our favorite Homecrest lines include Bermuda, Carousel, Casino Chair, Edina, Grenada, Riviera, Siesta Chaise and Summer Set. For a more modern take on this mid-century look, style your Homecrest piece sans the bright floral cushion set to showcase the elegant wire frame.
02. Alumaloy + Wrought Iron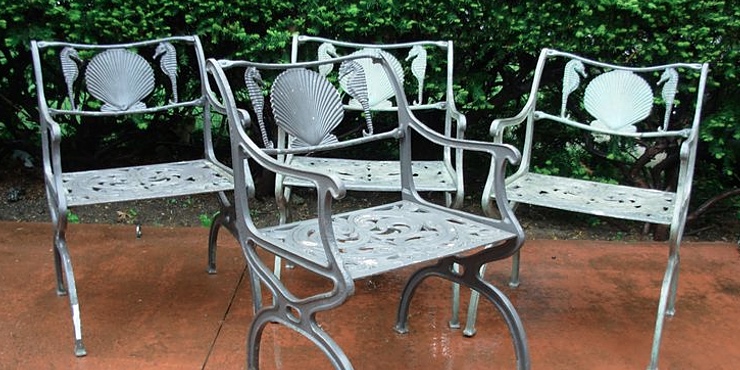 Molla
With roots in England during the early 19th century, Molla later relocated to the US and became favorable in East Coast mid-century seaside furnishing. Not susceptible to rust or salt damage, the 1950s aluminum cast pieces were attractive for their low maintenance and neoclassical motifs. A few of Molla's notable mid-century collections include Diana the Huntress, Greek Key, Marina, and Seahorse & Shell.
Umanoff
Arthur Umanoff's Granada Collection for Boyuer Scott Furniture debuted in 1964. Riding on the latter end of the mid-century era, Umanoff's steel frame patio pieces highlight a more detailed and ornate style that also found popularity in patio design. Featuring mediterranean scroll motifs alongside more traditional mid-century characteristics, the Granada line is often mistaken for Salterini's Ribbon collection from 1951.
Inspired by Alumaloy & Wrought Iron
03. Mesh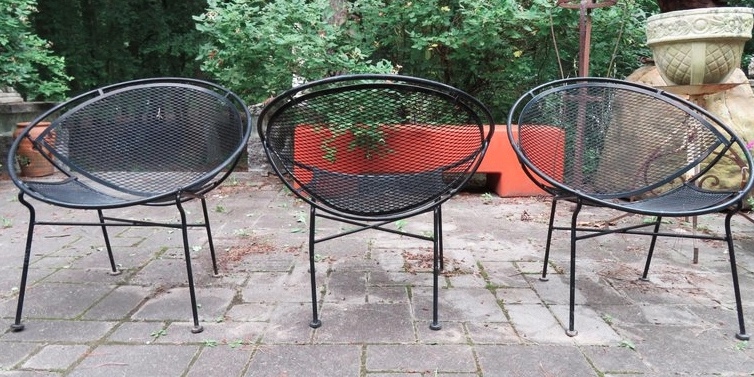 Salterini
Specializing in high end furniture from the 1920s through 1950s, John Salterini was a dominant force in mid-century outdoor living design. The collections under the Salterini name displayed diverse scope in style from neoclassical wrought iron, to simplistic wire frame silhouettes, and textural woven wicker. Touting dual indoor and outdoor functionality that could withstand the elements, the "Neva-Rust" maker guaranteed against rust with a six year warranty.
The Clamshell line designed by Maurizio Tempestini for Salterini is an example of one of mid-century's greats that has endured the test of time. The round frame with mesh design is also known as a hoop or radar chair, and has definitely been featured recently in both indoor and outdoor scapes. While the clamshell is one of our Salterini favorites, a few other collections we also adore are Mt. Vernon, Palm Springs, Park Avenue, Raffia, Profile, and Sea Island.
Woodard
With humble beginnings in 1866, the first generation of Woodard Brothers manufactured wood furniture, door and window sashes, blinds and pine-box caskets. After several decades of growth and recession, the Woodard company continued to produce home furnishings focusing on metal outdoor furniture after wood became scarce during the great depression. Once under the direction of the second and third generation of Woodards, the company became known as Woodard and Sons. The factory was later converted to manufacture wartime goods during WWII. Soon after the war, Woodard resumed production of their metal furniture and launched what would become known as one of their most iconic mid-century pieces.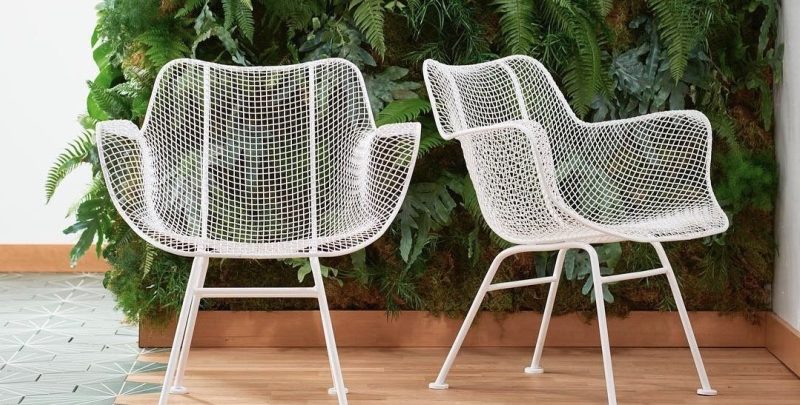 In 1956, the indoor/outdoor ready Sculptura chair was revealed to the delight of many. Innovative for the time, Woodard was the only manufacturer to construct a wire mesh sculptural piece without the use of costly molds. Similar to Salterini, Woodard experimented with a wide range of styles in diverse materials including their spun fiberglass and tulip shaped aluminum lines. Nevertheless, Woodard is most well known for their wrought iron collections such as Allegro, Briarwood, Chantilly Rose, Mayfield, and Pinecrest.
04. Vinyl + Cord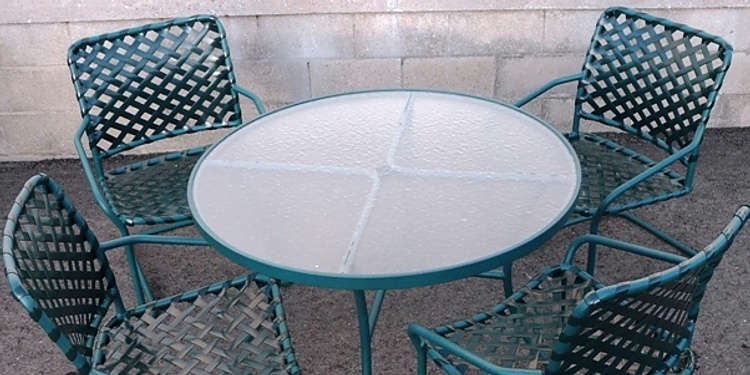 Tropitone
Established in 1954, Tropitone began as a commercial distributor to hotels and resorts. Their business model soon changed after they realized there was a demand for their product in the consumer industry. Following the craze for powder coated aluminum outdoor furnishings, Tropitone became known for their durable frames and vinyl strapping. Perfect for tropical climates and poolside atmosphere, the colorful woven vinyl straps brought a fun and different dimension to mid-century patio furniture. Some of our favorite Tropitone collections include Marrakesh, Leilani, Cayman, Brasilia, and Seychelle.
Brown Jordan
Pasadena based company, Brown Jordan was founded in 1945 by Robert Brown and Hubert Jordan. Their mission was to create pieces known for quality, design and craftsmanship. Similar to other designers, Brown Jordan began by retailing to high end clients but soon developed more affordable department store collections.
After some initial success with indoor furnishings, Brown Jordan launched the Leisure line in 1948. Featuring vibrant woven vinyl lace and popular lightweight aluminum tubing, the new outdoor collection was perfect for the relaxed, California poolside lifestyle. Brown Jordan's success continued through the mid-century era with the Walter Lamb Bronze Collection, which was made with salvaged cotton cord and copper pipe from sunken ships in Pearl Harbor. Later the Kantan Lounge chair, by Tadao E. Inoyue, was introduce in 1956 with similar popularity and Tamiami in 1961. Both designs feature an aluminum frame with vinyl in a cross-lace pattern.
Today the Tamiami Collection has been reprised by Brown Jordan and is offered in twelve colors that can be mixed and matched between frame and vinyl lace. The Kantan Collection is also still available in Aluminum and Brass finishes with Suncloth or Vinyl strapping.
Ames Aire
Similar to woven vinyl, cording was another popular material of choice in mid-century outdoor furniture. The Ames Aire brand was especially well-known for this particular technique and their "heavy duty tubular steel frames" which were "protected by a special zinc coating for longer wear". The "colorful resilient vinyl plastic cord" came in a variety of colors including white, yellow, avocado, turquoise, orange, honey gold and lilac. Lightweight and comfortable, Ames Aire advertised their collection for both indoor and outdoor use.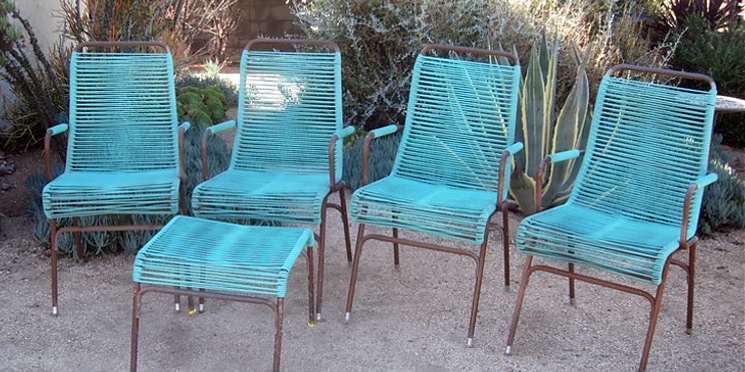 Inspired by Vinyl & Cording
05. Rattan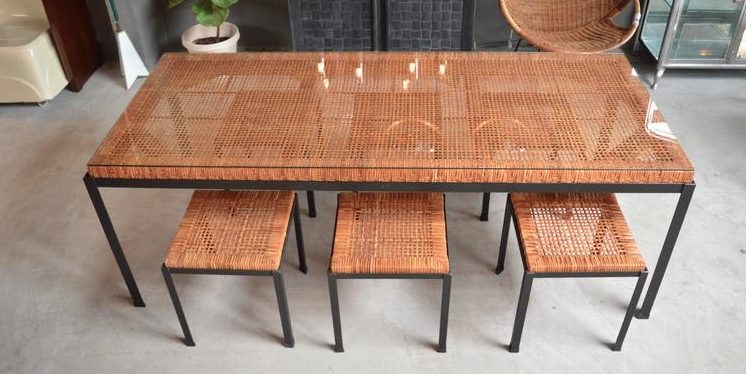 Danny Ho Fong for Tropi-Cal
Elements of mid-century design is said to have been influenced by some of the Asia Pacific styles witnessed abroad during WWII. This is most notable with the bold and exciting resurgence of rattan in post war patio furniture.
In 1954, the Fong brothers set out to create furniture influenced by the perfect blend of Tropical and California lifestyle, establishing Tropi-Cal. Joining the "indoor-outdoor" furniture movement, Danny Ho and son Miller Yee designed elegant wicker and rattan pieces that were manufactured in Hong Kong. Featuring mixed materials, the Tropi-Cal collections reduced the heaviness of traditional wicker with minimalist design and use of simple steel framing. Some of Tropi-Cal's most notable collections include Osetsu Dai Dining Group, Wave, Lotus, and what is now known as Vine, Great Dane, and Olive Side Chairs.
06. Bold Prints + Color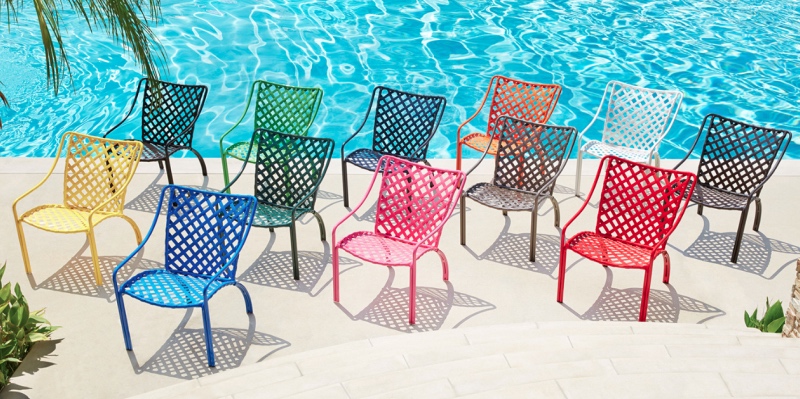 Bright colors and bold prints made a grand appearance in post WWII mid-century furnishes, eventually leading to an even greater debut in vivid 60's and 70's decor. This trend was particularly apparent in the lively floral prints, wrought iron motifs, and pops of color used throughout 1950s outdoor furniture.
John B. Salterini, maker of NEVA-RUST, is quoted with saying, "It's the decorative trend, using wrought iron furniture indoors because it brings into your home the freshness and gaiety of a flowery summer garden." The same sentiments can be said to have inspired several other mid-century patio collections. For example, many of the furnishings by Homecrest offered several cheerful floral upholstery selections to choose from. Although these items are no longer in production, you can still purchase replacement cushions for many of their original vintage pieces.
Similarly, colorful yard furniture was also used to add visual interest in backyards and by poolsides across the country. Advancements in technology with more durable, rust resistant metalwork and powder coating techniques made it possible for manufacturers to offer a wide variety of color and customization. Popular colors of the time were inspired by the tropics such as chalk white, orange, avocado, pineapple yellow, and turquoise. Brown Jordan's Tamiami line is a notable example of how mid-century patio design did not shy away from color. In 2015, the collection was reprised in 12 bright finishes that could be mixed and matched between frame and vinyl lace.
Inspired by Bold Prints & Color
We hope this brief guide to a few of mid-century modern's most classic patio furniture styles was helpful! If you're as ready as we are for the return of the warm summer breeze, check out our guide to Mid-Century Inspired Furniture for your 2018 Patio Refresh for more ideas.
---
Amazon product prices and availability are accurate as of the time of page load and are subject to change. Any price and availability information displayed on Amazon.com at the time of purchase will apply to the purchase of this product. Certain content that appears on this site comes from Amazon Services LLC. This content is provided "as is" and is subject to change or removal at any time.